das manchmal mädchen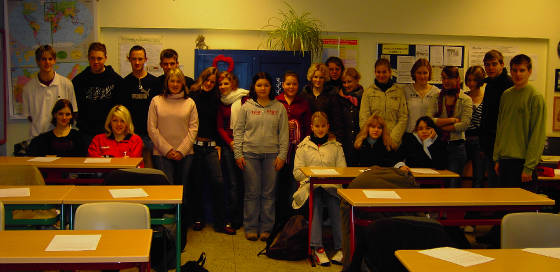 WPK English
In August 2006, my first poetry collection, the sometimes girl, was selected and approved to be the focus of a translation course in Germany.
The class ran from 7:45 a.m. to 9:20 a.m. every Wednesday and was taught by Frau Erdbrügger at Haupt- und Realschule Grossheide which is located in Lower Saxony (Niedersachsen) in North-Western Germany.

Twenty three students elected to enroll ranging in grades 8th through 10th.

The course ran from August 2006 through July 2007.
Course objectives included translating selections from the sometimes girl, translating my bio from my website, and incorporating the students own artwork and photographs.

There were several groups assigned to unique projects as well.

Some of these included, studying the bio and work of Bob Dylan, one of my major poetic influences, building a web page to display on the school's official website and making a video.
Web pages built by Marco Behrends, Mathias Erdmann, Fokko Janssen and Jörg Nannen.